Past Retreats:
2018 Retreat to Kerala India: Cochin – Marari – Alleppey
with Yogiraj Mona Anand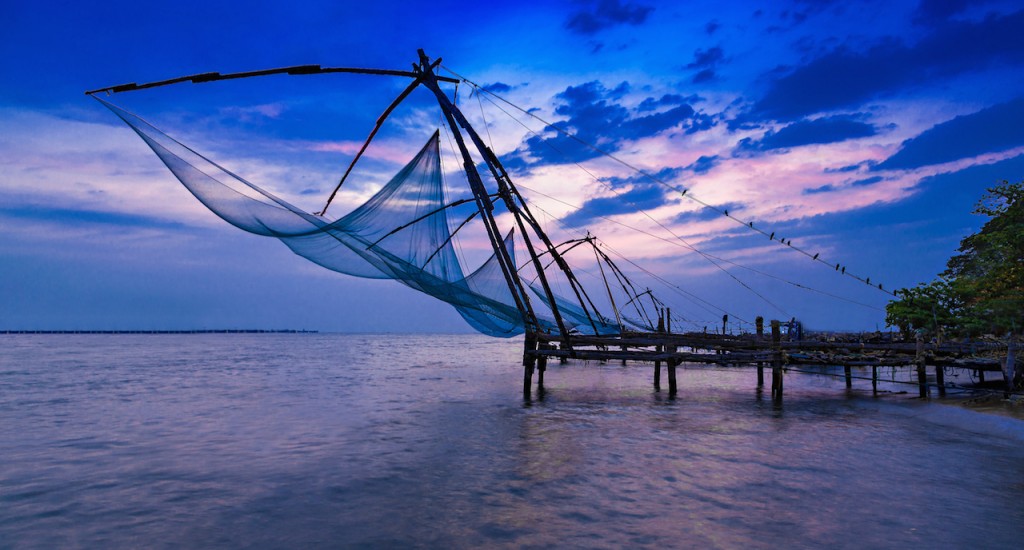 March 15 – 18 Cochin / Brunton Boat Yard
Cochin, the capital of Kerala, has one of the best natural harbors in the world. From time immemorial the Arabs, the Dutch, the Chinese, the English and the voyagers from Portugal have followed then sea – routes to Cochin and left their imprint on the town.
March 18 – 24th Marari Beach
Marari Beach Resort is a celebration of Kerala's coastal fishing villages. Marari Beach sprawls across 55 acres of lawns, far-flung lotus ponds and whispering coconut groves, all threaded through with stone-flagged pathways.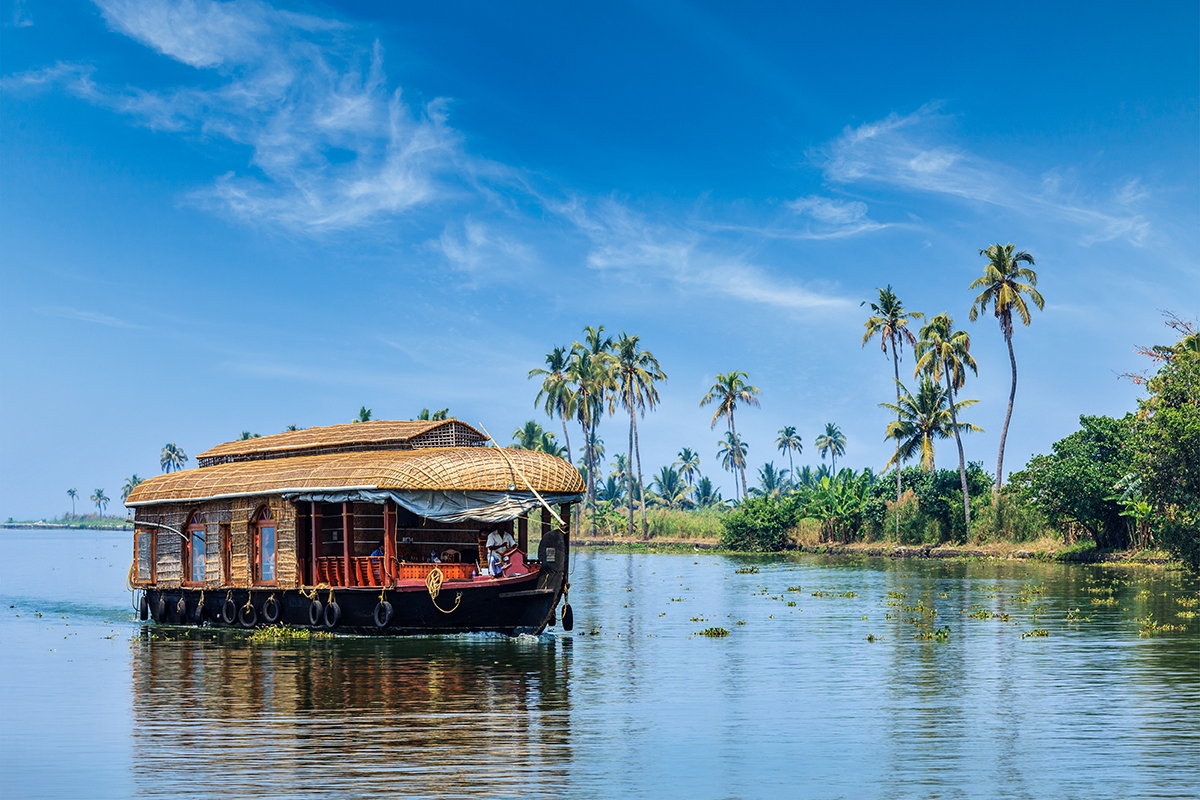 March 24 – 25th Houseboat on Backwaters
Float along and gaze over paddy fields of succulent green, curvaceous rice barges and village life along the banks. This is one of Kerala's most mesmerizingly beautiful and relaxing experiences.
Backwaters of Kerala
The backwaters of Kerala offer an enchanting experience of fun and relaxation and a chance to see authentic local life; a world of coconut trees, shallow lakes, deep canals and long boats….
For additional information on our yoga program:
Contact Mona at monaanand_68@hotmail.com

Testimonials
I was always intrigued by India but overwhelmed at the thought of traveling there.
When Mona announced her retreat one day in class I knew that was the only way to go. And I went, not once ...but 3 times!
Having grown up in Mumbai, Mona offers first hand insight into this kaleidoscopic country while helping us deepen our practice in the place where it all started.
The travel was expertly organized, the accommodations luxuriously authentic, and the schedule beautifully balanced between yoga sessions, cultural excursions and leisure.
I highly recommend any of Mona's retreat.
Just be prepared to fall in love with India."
Elaine Caswell
"Mona's India retreat was pure magic. Warm sunshine, delicious food (a LOT!), fresh daily afternoon chai, and gorgeous views while yoga'ing. This was such an incredible way to reconnect back to myself but also to my husband because this was our belated honeymoon. Mona went out of her way to make it extra special and I could not recommend this retreat more. It's worth every penny and the sense of peace you come home with will make you return, again and again."
Cyndie Spiegel
"ISHTA yoga retreat was everything that I didn't know I needed. It was my first retreat and as a beginner I was little nervous about being together with people who practiced for years, but Mona, her teachers and even other participants were incredibly supportive and encouraged me every day as I learned new poses, and really yoga in general. Yes, every day was a challenge but also the perfect balance of beautiful surroundings, personal growth, deep conversations with newly found friends, Ayurvedic massages, meditation and Mona's endless wisdom. It was also "me" time that we all need once in a while. I already signed up for the next retreat!"
Monika Larson
"On our retreat to India, Mona provided a luxurious yet down-to-earth experience both on the mat and throughout the country.
We harmoniously settled into a daily yoga practice with plenty of time to leisurely explore breathtaking retreat grounds, take an Ayurvedic massage, and rest well.
Mona took us on a journey through Yoga Nidra to a magical deep place within to adventuring out into Indian culture. She arranged awe-inspiring excursions to museums, ashrams, and local shops. We embraced elephants, took tuk tuk rides, and went on an overnight river boat ride where lotuses bloomed at sunrise. We sat on the beach in silent meditation and watched the sun set.
Our group came from all backgrounds and cultures, and I made new friends as we shared our yoga and life experiences. It had been a long time since I laughed so hard I cried! The takeaway for me: cherished memories and new friends."
Susan Ingraham
"Mona's India retreat was extraordinary. In New York I take a class at Ishta most days, often Mona's class. An hour or so of respite shoehorned into an active life. More than a quick fix for sure, but not suited to deep reflection and insight. In Kerala one was always aware of being freed from one's typical responsibilities and routines. The unscheduled expanses of time were a true luxury. Everything about the environment — the food, the accommodations, the natural beauty—made it easy to be both unfettered and focused. The long asana sessions, restorative, yoga nidra and sunset quiet time each contributed to a deep relaxation, profound inspiration and active introspection. And the people were amazing — accomplished, confident, varied in age, life situation, temperament, and nationality. The atmosphere created an uncommon openness among heretofore strangers — sparked and nurtured by Mona's sense of humor and wisdom."
Kitty Jacobs
"My only mentor Mona has a special gift. She brings together like minded people with similar vibrations and energy, who embrace the positive vibe and bring a lot of laughter. The beautifully chosen (almost surreal) location and of course the ocean helped me peacefully observe and reevaluate the current circumstances of my life.
Grateful for the one on one inspirational talks with Mona! Found it very healing to be in a "safe" place and be guided through my fears and self study.
The food was not just outstanding but chosen with care and love - helped me to develop new wellness habits.
The daily chakra workshop and yoga Nidra helped me stop overthinking and turn down the noise of my inner voice from the past.
Learning about a new culture gave me a new perspective about my life and made me see my own circumstances in a different light.
After the retreat my chronic illness hasn't bothered me for seven months.
Thinking how lucky I am to creat these unforgettable memories for my soul and body.."
Elena Skovorodko
Past Retreat:
2015 ISHTA Yoga Retreat To Italy
with
Mona Anand and Ulrica Norberg
I am so excited to be leading this retreat with Senior Ishta Teacher and Yin Master Teacher, Ulrica Norberg from Sweden. Join us on the exquisite south- east coast of Italy for a week of yoga, meditation, and relaxation.
Salento, Italy
August 29-September 5, 2015
Experience the unspoiled part of Italy; beautiful beaches, delicious food and local wine, all at affordable prices with few tourists await those who venture to Salento, the sun-kissed south of Puglia at the heel of Italy's boot. It is full of southern Italian ebullience and a heady mix of traditions. The remains of Greek and Roman temples and pre- historic monuments are scattered all over the dry sierras, popping up amid cactuses, olive groves and tobacco farms. Salento has evolved into an eco-friendly and slow living region where many artists, yogis and new-thinkers retreat.
We will stay at an organic yogafarm called Agricola Samadhi in Zolino which is surrounded by nature and silence, in the navel of Salento, very close to beautiful beaches and coves. The only sounds you can hear are those of the wind, the chirping of birds and the sound of crickets.
Agricola Samadhi is much more than a retreat center; it is a journey within a journey, an existential experience, multi-sensory, energizing and relaxing. Soak in the sun by the pool, spoil yourself with one of the many massage treatments offered, or set off on horse back, boat or bike to explore the area.
This center has it's own style of cooking in its Cucina del Sole where they treasure a slower and more harmonious rhythm of life during food production, preparation and assumption. They follow Ayurvedic and Taoist macrobiotic principles of Yin and Yang balance in their food preparation and use only natural ingredients.They combine their Italian Slow Food heritage with Eastern philosophy to create vegetarian healthy tasty dishes for every meal.
We will have two yoga sessions daily in our own yoga room which will include, yoga, meditation, restorative, yin yoga and yoga nidra. Every morning will start with an asana and meditation practice to open us up for the day. Every afternoon includes a restorative or yin yoga practice. Some days we offer satsang (talks/lecture) for those interested. The studio has essential props but please bring your own yoga mat and props of your choice.
Children are welcome and there is a playground on the premises. Friends and family members that do not wish to take part in our yoga program are welcome!
About the Teachers
Mona Anand. Mona Anand grew up in Mumbai, India where she was first introduced to yoga. She is a Yogiraj or Yoga Master in the Ishta Lineage Mona teaches her own Yoga Nidra Trainings and has a Yoga Nidra recording for deep relaxation or sleep available at Ishta and on iTunes. She is a lead trainer in Ishta's 500 hour teacher training program. She co-leads Restorative Trainings taught around the world. She is known for her signature Yoga Nidra/ Restorative Chakra and Ayurveda Workshop series . She and her teacher, Alan Finger have developed their own system of Ayurveda and Asana and Yoga Nidra which she teaches in advanced Ishta trainings. Mona currently teaches classes at Ishta and Yoga Works. She has a Masters in International Affairs from Columbia University and lives in NYC with her husband and two daughters.
Ulrica Norberg. Ulrica (E-RYT 500) is a yoga teacher with more that 20 years experience of many styles and forms of yoga and meditation, now settled in the ISHTA yoga lineage and is a lead trainer in their 500 hr teacher training program as well as a master teacher in certain specialty trainings, such as ISHTA yinyoga. This Sweden native, also a writer and dramatist (written 10 books on yoga and meditation), has lived abroad many years and traveled around the world many times. She is known for her deep knowledge, inspirational spotting, pedagogic teaching and warm approach.
Retreat Gallery